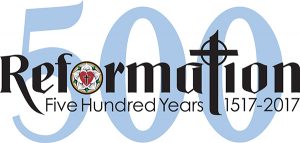 The year 2017 marks 500 years since Martin Luther published his 95 theses or complaints against the Catholic Church and launched the Protestant Reformation, setting in motion a religious revolution whose consequences we still live with today. The Reformation divided the Western church and transformed millions of peoples understanding of their relationship with God. The Reformation was, first and foremost, all about the Gospel of Jesus Christ. It was then, and it still is now. The task of reformation never ends, for every person, in every generation, needs to hear the good news of their Savior from sin and eternal death.
Throughout the Middle Ages, those in power, especially religious leaders in the Catholic Church, were extremely opposed to the translation of the Bible. They wanted the leaders of the Church and the higher class to be the only ones who could read the words of God. This is directly contrary to everything that the Bible teaches about Jesus being for all people, but the religious leaders were not interested in changing their opinion.
Those who dared to defy the Church were threatened with death and imprisonment, but fortunately for us, they did not back down. Their passion was evident to all, and they felt very strongly about translating the Bible into a language that everyone could understand. Those who truly read and understood the Bible knew that its messages was intended for all people, and that God could not care less about the higher social classes and religious leaders being the only ones to read the Bible.